Blem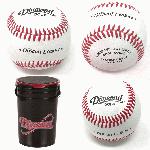 Diamond DOL Blem Baseballs 5 Dozen and Bucket 179.95 Diamond Diamond baseballs are the highest quality and most popular brand of baseballs for years. This bucket and 5 Dozen baseballs are great for practice, batting practice, or any other baseball use. Full leather cover and high quality, just minor blem cosmetics you don't even notice when hitting batting practice or tee work.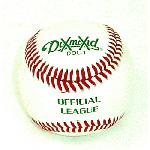 Diamond DOL-1 Leather Baseballs Blem 1 Doz 39.95 Diamond Cork and Rubber Core ul lispan class=a-list-item Yarn Wound /span/li lispan class=a-list-item Full Grain Leather Cover /span/li lispan class=a-list-item 5 oz 9 in /span/li /ul Diamond Sports is a leading sports manufacturer specializing in baseball, softball, and football products. Diamond strives to promote the advancement of competitive sports on all levels by delivering high-end quality products. Specializing in baseballs, the company also offers top quality umpire equipment and baseball accessories. Constructed with the signature Diamond Seam™, a Diamond ball is one of the best baseballs available. Diamond balls are made with only the finest premium leather cover for durability and performance. Diamond offers a full line of balls including little league, youth and professional leather baseballs. At Baseball Savings, you will find great prices and selection on Diamond baseballs, baseball equipment, and umpire equipment.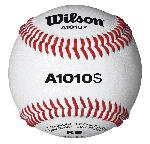 Wilson A1010 Blem Baseballs 5 Doz with Bucket 249.99 Wilson Professional Quality Baseball Very Minor Blemish, Great Practice Ball. Model A1010S High raised seams Premium grade full grain leather cover. Premium quality wool windings with Red cushioned cork center. 5 Dozen Baseballs with Free Bucket.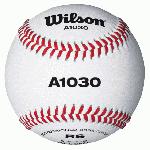 Wilson A1030 Blem Baseballs 3 Doz and Bucket 139.95 Wilson Raised seams are 20% higher than flat seam baseballs, giving pitchers and fielders better grip and more accuracy. Grey wool winding. Grade CD full grain leather. Red Cushioned Cork center keeps the baseball more energized during batball collision
Wilson Bucket of Blem Baseballs 3 Dozen A1010S 154.95 Wilson Wilson has become the undisputed ruler of sporting goods, with awesome gear for every athlete no matter their game. Everything they make receives the same intensive craftsmanship and dedication to superior quality, however sometimes a product doesn't come out as pretty as their demanding standards require. Blems as they are called, have slight cosmetic blemishes which have no impact on performance. Wilson sells these products off at a huge discount, and that means some incredible savings for you! These balls hit just like regulation baseballs, making them excellent for practice or even just playing catch in the back yard. Jump on this amazing deal before they're all gone! Features: Professional Quality Baseball Very Minor Blemish, Great Practice Ball Model A1010 High raised seams, Premium grade full grain leather cover, Premium quality wool windings, Red cushioned cork center. Super seam technology ul lispan class=a-list-item Grade A full leather /span/li lispan class=a-list-item Red cushioned cork with dura-core technology /span/li lispan class=a-list-item 3 dozen balls in a shiny white bucket /span/li lispan class=a-list-item Individual ball weight: .36 lbs /span/li /ul