Scorebook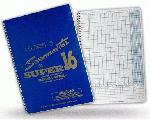 Peterson's Super 16 Baseball Scorebook and Softball Score Book 9.99 Peterson's Super 16 Baseball Scorebook and Softball Score Book : The Petersons Scoremaster -Super 16- Score Book is a 9 x 12-inch hardback baseball and softball scorebook. It provides scoring capabilities for up to 25 games (when recording both teams), 16 batting positions per team and a substitution slot for each of the 16 batting positions. Each page is equipped with pictorial scoring examples for easy to learn examples. The scorebook also features an area for prefigured batting averages. The Peterson's -Super 16- simplified scorebook also features lineup cards, average chart, team schedule, instructions, season summary, and a team roster. Coaches and parents alike can use the Scoremaster as a reference of stat sheets to accumulate game by game records on each player. There are 4 pages in the back of the scoring book, each page has 12 perforated tear-out line-up sheets to hang in the dugout. Overall, the Petersons Scoremaster Score Book is more than perfect for any baseball or softball team, especially Travel Teams.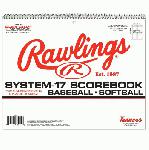 Rawlings 17SB System 17 Scorebook Baseball Softball 5.99 Rawlings Youth and Adult Recreational Play. 17 Players and 9 Innings.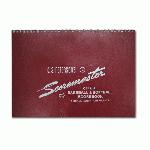 Scoremaster Scorebook 5.95 C.S. Peterson's Original Scoremaster Scorebook for baseball and softball. Includes instructions in front of book for the Scoremaster system of scoring. Includes 25 games with 12 innings and 11 players with substitue.