DOL A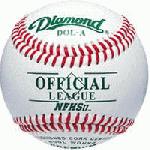 Diamond Bucket with (5 doz) DOL-A Offical League Baseballs 269.99 Diamond pDiamond Bucket with 5 doz DOL-A Offical League Baseballs Shipped. Leather cover. Cushioned cork center. Yarn wound. Full grain leather cover./p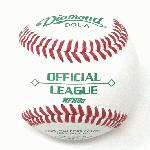 Diamond Bucket with 30 DOL-A Offical League Baseballs 170.00 Diamond pDiamond Bucket with 30 DOL-A Offical League Baseballs Shipped. Leather cover. Cushioned cork center. Yarn wound. Full grain leather cover./p
Diamond Bucket with 5 dozen DOL-DBA Baseballs 199.00 Diamond Diamond Duracover Cushioned Cork Raised Seam Baseballs DOL-DBA Official League. 5 dozend baseballs and bucket. Official League Cushioned cork center Yarn wound Duracover trade. Raised Seam Economy balls not suitable for pitching machine use.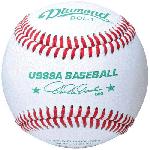 Diamond DOL-1 USSSA Baseballs 1 Dozen 59.95 Diamond pSelect wool blend winding Cork and rubber center Premium leather cover Raised Diamond Seam USSSA official licensed product./p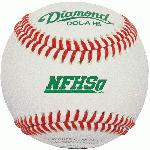 Diamond DOL-A NFHS NOCSAE Official League Baseball 1 Dozen 59.95 Diamond Full-grain leather cover forA durability RaisedA seam construction for better control Cushioned cork center with yarn winding Quantity: 1 Dozen Recommended Age: Intermediate Youth and High School.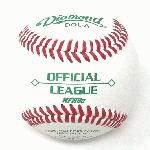 Diamond DOL-A Official League Baseball 1 Doz 51.99 Diamond pOfficial League, cushioned cork center, A-grade gray wool blend winding, premium leather cover, Diamond Seam, NFHS approved and licensed./p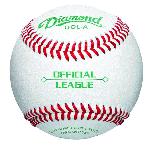 Diamond DOL-A Official League Leather Baseballs 1 Dozen 64.95 Diamond pspanDiamond DOL-A Official Leaguel leather baseballs features durable full-grain leather cover, raised seam construction, yarn wound , and cushioned cork center./span/p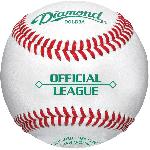 Diamond DOL-DBA Official League Baseballs 1 Dozen 42.95 Diamond pBalls have a synthetic cover and a solid cork center./p