BlackWhite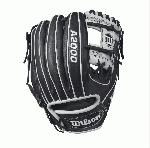 Wilson A2000 1788 Infield Baseball Glove BlackWhite 11.25inch Right Hand Throw 249.95 Wilson The Wilson A2000 1788 SS is an infield model with one of the smallest pockets possible - helping you make the quickest transfer possible. Made with an H-Web and 2x lacing at the base of the web, the 11.25 A2000® 1788 gives you everything you need to make the play. A2000 1788 SS - 11.25 Wilson A2000 1788 Super Skin Infield Baseball GloveA2000 11.25 1788 SS Infield Baseball Glove- Right Hand ThrowWTA20RB171788SS Get your hand in the A200 1788 SS, an 11.25 infield model with one of the smallest pockets possible - helping you make the quickest transfer possible. Made with an H-Web and 2x lacing at the base of the web to create a shallow pocket, the Black Super Skin and Grey A2000 1788SS gives you everything you need to make the play. The A2000 Super Skin baseball glove series is the utility player of the Wilson lineup. A versatile mix of Pro Stock Leather and man-made Super Skin makes the glove stonger, lighter and easier to break in that the all-leather A2000. 11.25 Infield ModelH-WebPro Stock Leather combined with Super Skin for a light, long lasting glove and a great break-inDual Welting for a durable pocketDriLex Wrist Lining to keep your hand cool and dry InfieldRHT 11.25 H-Web Pro Stock Leather A2K 1788 SS A2000 1788 A2000 T-shirtWilson Glove Care KitAso-San Glove Mallet Aso breaks in Brandon Phillips Glove
Wilson A2000 1799 SuperSkin Baseball Glove BlackWhiteRed 12.75inch Left Hand Throw 259.95 Wilson A2000 1799 SS - 12.75 Wilson A2000 1799 Super Skin Outfield Baseball Glove A2000 1799 Super Skin 12.75 Outfield Baseball Glove - Right Hand Throw A2000 1799 Super Skin 12.75 Outfield Baseball Glove - Left Hand Throw WTA20RB171799SS WTA20LB171799SS The classic Wilson A2000 1799 pattern is constructed in this modelwith Black Super Skin, White binding and Red stitching. At 12.75 MLB players favor this glove model for its incredible length and deep pocket.The A2000 Super Skin baseball glove series is the utility player of the Wilson lineup. A versatile mix of Pro Stock Leather and man-made Super Skin makes the glove stonger, lighter and easier to break in that the all-leather A2000. 12.75 Outfield ModelClosed 2-Piece WebPro Stock Leather combined with Super Skin for a light, long lasting glove and a great break-inDual Welting for a durable pocketDriLex Wrist Lining to keep your hand cool and dry Outfield Both12.75 Dual Post Web Pro Stock Leather A2K 1799A2000 1799 A2000 T-shirtWilson Glove Care KitAso-San Glove Mallet Aso breaks in Brandon Phillips Glove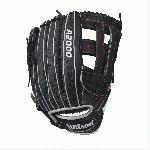 Wilson A2000 1799 SuperSkin Baseball Glove BlackWhiteRed 12.75inch Right Hand Throw 259.95 Wilson A2000 1799 SS - 12.75 Wilson A2000 1799 Super Skin Outfield Baseball Glove A2000 1799 Super Skin 12.75 Outfield Baseball Glove - Right Hand Throw A2000 1799 Super Skin 12.75 Outfield Baseball Glove - Left Hand Throw WTA20RB171799SS WTA20LB171799SS The classic Wilson A2000 1799 pattern is constructed in this modelwith Black Super Skin, White binding and Red stitching. At 12.75 MLB players favor this glove model for its incredible length and deep pocket.The A2000 Super Skin baseball glove series is the utility player of the Wilson lineup. A versatile mix of Pro Stock Leather and man-made Super Skin makes the glove stonger, lighter and easier to break in that the all-leather A2000. 12.75 Outfield ModelClosed 2-Piece WebPro Stock Leather combined with Super Skin for a light, long lasting glove and a great break-inDual Welting for a durable pocketDriLex Wrist Lining to keep your hand cool and dry Outfield Both12.75 Dual Post Web Pro Stock Leather A2K 1799A2000 1799 A2000 T-shirtWilson Glove Care KitAso-San Glove Mallet Aso breaks in Brandon Phillips Glove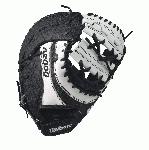 Wilson A2000 BM12 SuperSkin Fastpitch Glove BlackWhite 12inch Right Hand Throw 209.95 Wilson A2000 BM12 SS - 12 Wilson A2000 BM12 Super Skin 12 Fastpitch First Base Mitt A2000 BM12 Super Skin Fastpitch First Base Mitt- Right Hand Throw A2000 BM12 Super Skin Fastpitch First Base Mitt - Left Hand ThrowWTA20RF17BM12SS WTA20LF17BM12SS The Wilson A2000 BM12 SS fastpitch first base mitt was designed with a single heel-break allowing for a thumb to middle finger break-in. Constructed with black and WHITE Pro Stock Leather and Super Skin, the A2000 BM12 SS is both light and durable so you can use it season after season. A serious glove for a serious ballplayer. The fastpitch A2000 lineup is created with the Custom Fit System so that every fastpitch player can have a glove that fits her hand - no matter how tight she wears it. The superior feel and durability come from the premium Pro Stock leather that breaks in perfectly and lasts from one season to the next.12 1st Base ModelDouble Horizontal BarsD-Fusion pocket pad creates No Sting Catch ZoneFastpitch-specific model Comfort Velcro Wrist Closure for a secure and comfortable fitPro Stock Leather combined with Super Skin for a light, long lasting glove and a great break-inAvailable in right hand throw and left hand throwFirst base both12 Double Horizontal BarsPro Stock Leather A2000 2800A2000 MC24 A2000 FP1275 SSA2000 Glove Care Kit Aso-San Glove Mallet Wilson Fastpitch: Your Glove is Your Glove
Wilson A2000 BM12 SuperSkin Fastpitch Softball Glove BlackWhite 12 Left Hand Throw 199.95 Wilson The Wilson A2000 BM12 SS fastpitch first base mitt was designed with a single heel-break allowing for a thumb to middle finger break-in. Constructed with black and WHITE Pro Stock Leather and Super Skin, the A2000 BM12 SS is both light and durable so you can use it season after season.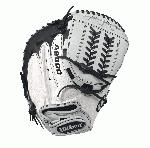 Wilson A2000 CM34 SuperSkin Fastpitch Glove BlackWhite 34inch Right Hand Throw 259.95 Wilson A2000 CM34 WS - 34 Wilson A2000 CM34 White Super Skin 34 Fastpitch Catcher's MittA2000 CM34 White Super Skin Fastpitch Catcher's Mitt - Right Hand ThrowWTA20RF17CMSS The black and white A2000 CM34 is constructed with Pro Stock Leather and Super Skin to create an amazingly light and durable mitt. This glove features an all new Horizontal Hinge Web that controls spin to keep the ball in the pocket so you can control home plate. A serious glove for a serious ballplayer. The fastpitch A2000 lineup is created with the Custom Fit System so that every fastpitch player can have a glove that fits her hand - no matter how tight she wears it. The superior feel and durability come from the premium Pro Stock leather that breaks in perfectly and lasts from one season to the next.34 Catcher ModelHorizontal Hinge WebD-Fusion pocket pad creates No Sting Catch ZoneFastpitch-specific modelPro Stock Leather combined with Super Skin for a light, long lasting glove and a great break-in catcherRHT 34 horizontal hinge webPro Stock Leather A2000 1790 SS Onyx FPCMA2000 M1 SSA2000 Glove Care Kit Aso-San Glove Mallet Wilson Fastpitch: Your Glove is Your Glove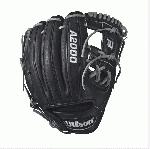 Wilson A2000 DP15 Infield Baseball Glove BlackWhite 11.5inch Right Hand Throw 259.95 Wilson A2000 DP15 - 11.5 Wilson A2000 DP15 Dustin Pedroia Infield Baseball GloveA2000 Dustin Pedroia DP15 11.5 Infield Baseball Glove - Right Hand ThrowWTA20RB17DP15GM Work the infield with Dustin Pedroia's Game Model Glove, the A2000 DP15 GM. Featuring the Pedroia Fit, this Black and Gray glove is perfect for the middle infielder with smaller hands or those looking for a more snug fit. The A2000 DP15 includes rolled dual welting for a quicker break in, extra long laces, and double X laces to secure the H-web to the pocket. Just like Dustin's glove, the heel felt is removed to allow you to better feel the ball.Constantly improving patterns. Materials that perform. Meticulous dependable construction. The evolution of the A2000 baseball glove has been driven by insights from the Wilson Advisory Staff. This is why hard working players love its unmatched feel, rugged durability and perfect break-in.11.5 Infield ModelDustin Pedroia's Game Model GlovePedroia Fit - All of the fit modificationsDustin Pedroia requests-tight fit, long laces, smaller hand opening and low profile heelExtra Long LacingLow Impact HeelRolled Dual-Welting for quicker break inPro Stock Leather for a long lasting glove and a great break-inDriLex Wrist Lining to keep your hand cool and dryInfieldRHT 11.5 H-Web Pro Stock Leather A2K DP15 GM A2000 DP15 GMWilson A2000 T-Shirt A2000 Glove Care Kit Aso-San Glove Mallet Aso breaks in Brandon Phillips Glove The most famous baseball glove, the Wilson A2000, just keeps getting better. Wilson Glove Master Craftsman, Shigeaki Aso, constantly refines the Pro Stock patterns with the insights of hundreds of MLB players every season. Made with Pro Stock leather, the A2000 baseball glove is built to break in perfectly and last for multiple seasons. It's the perfect ball glove for hard working players.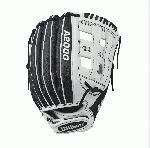 Wilson A2000 IF12 SuperSkin Fastpitch Glove BlackWhite 12inch Right Hand Throw 259.95 Wilson A2000 FP12 SS - 12 Wilson A2000 FP12 Super Skin 12 Infield Fastpitch Glove A2000 FP12 Super Skin Infield Fastpitch Glove- Right Hand ThrowWTA20RF17IF12SS The black and white A2000 FP12 SS was developed with Wilson's Pro Stock leather for unmatchable durability and Super Skin to make the glove as light as possible so nothing holds you back from making the play. Great for middle infielders and pitchers, this 12 model features an extremely stable dual post web that creates a pocket that is perfect for dual position players. A serious glove for a serious ballplayer. The fastpitch A2000 lineup is created with the Custom Fit System so that every fastpitch player can have a glove that fits her hand - no matter how tight she wears it. The superior feel and durability come from the premium Pro Stock leather that breaks in perfectly and lasts from one season to the next.12 Infield ModelDual Post WebFastpitch-specific model Comfort Velcro Wrist Closure for a secure and comfortable fitD-Fusion pocket pad creates No Sting Catch ZonePro Stock Leather combined with Super Skin for a light, long lasting glove and a great break-inDual Welting for a durable pocketAvailable in right hand throw and left hand throwInfieldRHT 12 dual post web Pro Stock Leather A2000 FP1175A2000 P12Onyx P12 A2000 Glove Care Kit Aso-San Glove Mallet Wilson Fastpitch: Your Glove is Your Glove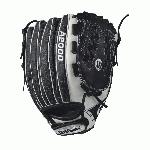 Wilson A2000 V125 SuperSkin Fastpitch Glove BlackWhite 12.5inch Right Hand Throw 209.95 Wilson A2000 V125 SS - 12.5 Wilson A2000 V125 Super Skin 12.5 Outfield Fastpitch GloveA2000 V125 12.5 Outfield Fastpitch Glove - Right Hand Throw A2000 V125 12.5 Outfield Fastpitch Glove - Left Hand Throw WTA20RF17V125SS WTA20LF17V125SS Master the outfield with the 12.5 Wilson A2000 V125 SS glove. This black and white outfield softball glove is long enough to give you the reach you need, and the Victory Web creates a solid and deep pocket. Glove-lightening Super Skin is used strategically so your glove won't weigh you down.A serious glove for a serious ballplayer. The fastpitch A2000 lineup is created with the Custom Fit System so that every fastpitch player can have a glove that fits her hand - no matter how tight she wears it. The superior feel and durability come from the premium Pro Stock leather that breaks in perfectly and lasts from one season to the next.12.5 Outfield ModelVictoryWebFastpitch-specific model Comfort Velcro Wrist Closure for a secure and comfortable fitD-Fusion pocket pad creates No Sting Catch ZonePro Stock Leather combined with Super Skin for a light, long lasting glove and a great break-inDual Welting for a durable pocketAvailable in right hand throw and left hand throwOutfield both12.5 victory web Pro Stock Leather A2000 FP1275 SS Onyx FP 1275 Onyx FPV125A2000 Glove Care Kit Aso-San Glove Mallet Wilson Fastpitch: Your Glove is Your Glove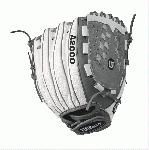 Wilson A2000 V125 White SuperSkin Fastpitch Glove BlackWhite 12.5inch Right Hand Throw 259.95 Wilson A2000 V125 WS - 12.5 Wilson A2000 V125 White Super Skin 12.5 Outfield Fastpitch GloveA2000 V125 White Super Skin Outfield Fastpitch Glove - Right Hand Throw A2000 V125 White Super Skin Outfield Fastpitch Glove WTA20RF17V125WS WTA20LF17V125WS Master the outfield with the 12.5 Wilson A2000 V125 WS. This white Super Skin and gray outfield softball glove is long enough to give you the reach you need, and the Victory Web creates a solid and deep pocket. Glove-lightening Super Skin is used strategically so your glove won't weigh you down.A serious glove for a serious ballplayer. The fastpitch A2000 lineup is created with the Custom Fit System so that every fastpitch player can have a glove that fits her hand - no matter how tight she wears it. The superior feel and durability come from the premium Pro Stock leather that breaks in perfectly and lasts from one season to the next.12 Outfield ModelVictoryWebFastpitch-specific model Comfort Velcro Wrist Closure for a secure and comfortable fitD-Fusion pocket pad creates No Sting Catch ZonePro Stock Leather combined with White Super Skin for a light, long lasting glove and a great break-inDual Welting for a durable pocketAvailable in right hand throw and left hand throwOutfield Both12 Victory web Pro Stock Leather A2000 FP125 A2000 FP12 A2000 FP12SS A2000 Glove Care Kit Aso-San Glove Mallet Wilson Fastpitch: Your Glove is Your Glove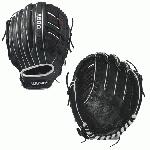 Wilson A500 Y Puig Baseball Glove 12.5 inch BlackWhiteRed Right Hand Throw 49.95 Wilson A500 - 12.5 Wilson A500 12.5 Baseball Glove A500 12.5 Baseball Glove - Right Hand Throw A500 12.5 Baseball Glove - Left Hand Throw WTA05RB17125 WTA05LB17125 Designed for youth players, the 12.5 A500 is the perfect glove for the young player who loves to do it all. It has a Single Post Web and is built as a replica of the 1799SS model -- the right model for the versatile player who sees time all over the diamond.The A500 is the lightest all-leather glove on the market. The glove's top-grain leather provides a flexible, ready-to-play feel that performs without the extra weight of other leather gloves. 12.5 Pro Laced T-Web Replica of the 1799 SS modelGame-ready top grain leather shell provides all the feel without the wieght2x Palm Construction to reinforce the pocketDual WeltingTM for a durable pocketThe lighest all-leather glove on the market UtilityBoth12.5 Single Post Web Game Ready Top Grain LeatherA500 12 Showtime 12.5 Bandit 12.5 A1074 Wilson Players Video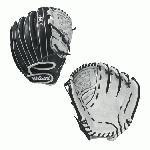 Wilson Onyx Cat Web Fastpitch Glove 12 BlackWhite Right Hand Throw 114.95 Wilson ONYX FP 1275 - 12.75 Wilson Onyx FP 1275 Outfield Fastpitch Glove Onyx FP 12.75 Outfield Fastpitch Glove- Right Hand Throw Onyx FP 12.75 Outfield Fastpitch Glove- Left Hand Throw WTA12RF171275WTA12LF171275At 12.75 , the Onyx FP1275 glove gives you maximum range and control in the outfield. The Dual Welting along the back fingers ensure the pocket maintains its shape and help keep the ball in on those snow cone catches. Your Wilson Onyx FP 1275 fastpitch glove will break in perfectly without breaking down. Travel fastpitch players love this glove because it breaks in fast and feels good. The Onyx glove is diamond ready (no break-in period!) while its Double Palm Construction provides the durability it needs to last the season.12.75 Outfield ModelAso WebFastpitch-specific modelTwo piece back closure for a secure fitDouble Palm Construction to reinforce the pocketDouble Play Leather that breaks in quickly and doesn't sacrifice feel for the ballD-Fusion pocket pad creates No Sting Catch ZoneRolled Dual Welting for a quicker break inAvailable in right hand throw and left hand throwoutfield both12.75 pro-laced t web Soft Tumbled LeatherOnyx FP125A2000 FP V125A2000 FP 1275A2000 Glove Care Kit Aso-San Glove Mallet Wilson Fastpitch: Your Glove is Your Glove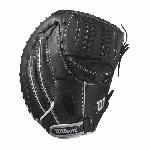 Wilson Onyx Fastpitch Catcher's Mitt 33 BlackWhite Right Hand Throw 109.95 Wilson Wilson Onyx Fastpitch Catcher's Mitt 33.00 A12RF1733 The Wilson Onyx Fastpitch Catcher's Mitt is designed to be ready on day one. The Wilson Onyx is constructed with Double Play leather for a quick break-in and an extended life. The Onyx also features rolled dual welting and double palm construction to help the glove maintain its shape and keep the ball in the glove. • 33.00" catcher's pattern • FP C-laced web • Two piece back closure • Double palm construction • Double play leather • D-fusion pocket pad • Rolled dual welting Wilson Onyx Fastpitch Catcher's Mitt 33.00 A12RF1733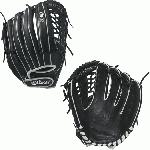 Wilson Onyx Laced Post Web Fastpitch Glove 12.75 BlackWhite Right Hand Throw 83.90 Wilson ONYX FP 1275 - 12.75 Wilson Onyx FP 1275 Outfield Fastpitch Glove Onyx FP 12.75 Outfield Fastpitch Glove- Right Hand Throw Onyx FP 12.75 Outfield Fastpitch Glove- Left Hand Throw WTA12RF171275WTA12LF171275At 12.75 , the Onyx FP1275 glove gives you maximum range and control in the outfield. The Dual Welting along the back fingers ensure the pocket maintains its shape and help keep the ball in on those snow cone catches. Your Wilson Onyx FP 1275 fastpitch glove will break in perfectly without breaking down. Travel fastpitch players love this glove because it breaks in fast and feels good. The Onyx glove is diamond ready (no break-in period!) while its Double Palm Construction provides the durability it needs to last the season.12.75 Outfield ModelAso WebFastpitch-specific modelTwo piece back closure for a secure fitDouble Palm Construction to reinforce the pocketDouble Play Leather that breaks in quickly and doesn't sacrifice feel for the ballD-Fusion pocket pad creates No Sting Catch ZoneRolled Dual Welting for a quicker break inAvailable in right hand throw and left hand throwoutfield both12.75 pro-laced t web Soft Tumbled LeatherOnyx FP125A2000 FP V125A2000 FP 1275A2000 Glove Care Kit Aso-San Glove Mallet Wilson Fastpitch: Your Glove is Your Glove