27 17 oz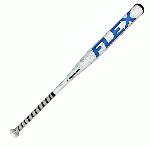 Anderson 2017 Flex Slowpitch Softball Bat 34 inch 27 oz USSSA 169.00 Anderson The strongFlex Slow Pitch/strong Softball Bat is virtually bulletproof! It is constructed from our enhanced aerospace alloy material. This one piece design is considered one of our most durable bats so you'll never worry about your new Flex denting or cracking in the middle of a season. br /With a Reduced Moment of Inertia (the effort necessary to swing the bat) allows you to generate break neck bat speed without burning an extra ounce of effort! It's like swinging a bat with the force of a sledgehammer with the effort of a fly swatter producing more powerful hits, massive ball speed and bigger offensive numbers. • Ultra-Thin Whip Handle for better bat speedbr / • 2 ¼" Barrel Diameterbr / • ½ Ounce end load for larger sweet spot and more power!br / • New flex barrel design for better exit speedbr / • Strengthened light weight end cap supports barrel performancebr / • One-piece single wall, all aerospace alloy materialbr / • Meets BPF 1.20 Standardsbr / • Approved by all major softball associations: ASA, USSSA, NSA, ISAbr / • Manufactures Warranty: 1 Year against manufacture defectsbr / • Model #: 011042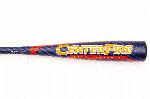 Anderson 2019 Centerfire -10 Youth USA Baseball Bat 27 in 17 oz 59.95 Anderson 2 5/8" Barrel -10 Drop Weight Balanced swing weight for more speed and power Approved for USABat and most baseball associations including: Little League, Cal Ripken, Babe Ruth, Dixie Youth, AABC & Pony Manufacturer Warranty The 2019 Anderson Centerfire -11 baseball bat is our latest addition to our youth baseball category. This high grade one piece design offers an ultra-balanced swing weight for improved bat speed for players looking to get through the hitting zone much faster. The high grade alloy barrel generates massive power thru out the barrel allowing you to center each hit on a baseball. No hype, just performance! Ideal for players ages 7-10 2 5/8" Barrel -10 Drop Weight Balanced swing weight for more speed and power Hot out of the wrapper, no "break-in" period necessary High grade one piece aerospace alloy design Approved for USABat and most baseball associations including: Little League, Cal Ripken, Babe Ruth, Dixie Youth, AABC & Pony Model #: 015036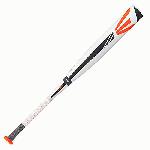 Easton Mako SL15MK10B 2 3/4 Barrel Baseball Bat -10 (27-inch-17-oz) 199.00 Easton Easton Mako Senior League Baseball Bat -10 and 2 34 barrel. TCT Thermo Composite Technology gives you a massive sweet spot and unmatched bat speed. Patented two-piece ConneXion technology maximizes energy transfer for optimized feel. Ultra-thin 2932 composite handle with performance diamond grip. 2 34 inch barrel. USSSA 1.15 BPF certified.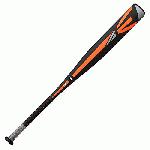 Easton SL15S110 S1 COMP 2 5/8-Inch -10 Senior League/Youth Big Barrel Baseball Bat (27-inch-17-oz) 169.00 Easton Easton S1 Comp Baseball Bat. Ultra-thin 2932 composite handle with performance diamond grip. USSSA 1.15 BPF certified. 2 58 barrel diameter. Speed design for low M.O.I and faster swing speeds.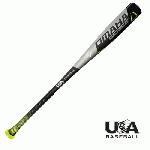 Louisville Slugger 2018 Omaha USA Baseball Bat 2 5/8 Barrel 27 inch 17 oz 69.95 Louisville The new Omaha 518 (-10) 2 5/8 USA Baseball bat from Louisville Slugger is designed to help players dominate at the highest levels, the way the Omaha series has dominated the scene -- year after year, game after game. Product Features Meets new USA baseball youth standard 1pc 7-Series alloy construction that delivers a huge sweet spot Durable end cap design Synthetic leather fade grip 7/8" standard handle Specs Product SKU(s) Barrel Diameter 2 5/8 Inches Series Omaha Certification USA Baseball Barrel Material Alloy Model Year 2018 Weight Drop -10 Note Manufacturing tolerances, performance considerations, and grip weight may cause variations from the listed weight.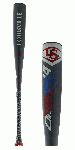 Louisville Slugger 2019 Omaha 519-10 USSSA Baseball Bat WTLSLO519X10 27 inch 17 oz 96.00 Louisville 2 3/4 Inch Barrel Diameter -10 Length To Weight Ratio 6-Star Premium Performance End Cap Improves Balance Balanced Swing Weight Features USSSA BPF 1.15 Certification ower up your game with this line of 2019 Louisville Slugger Omaha bats. With a resilient one-piece construction made of ST 7U1+ alloy, this 2019 Louisville Slugger USSSA Omaha 519 baseball bat combines a light swing weight and a massive sweet spot in a balanced design to give you the best of both worlds in speed and strength. Its 6-Star premium end cap extends the barrel length while maintaining a correct weight distribution, ensuring that your swings are always on point. On top of the already extended barrel, the Omaha 519 is constructed with a longer barrel design than previous years which means more plate coverage at the dish. Louisville Slugger: Others Make Bats, We Make History. Increase your batting average with this 2019 Louisville Slugger USSSA Omaha 519 baseball bat (WTLSLO519X10), which features a drop 10 length to weight ratio, a 2 3/4-inch barrel diameter, and the USSSA certification making this bat approved for travel ball and tournament play. If you enjoy a custom, comfortable overall feel, this USSSA bat is for you. This Omaha 519 baseball bat integrates LS Pro Comfort Grip technology, which keeps your hands locked in position for top-notch swinging precision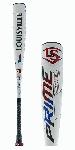 Louisville Slugger 2019 Prime 919 -10 USSSA Baseball Bat WTLSLP919X10 27 inch 17 oz 179.00 Louisville `-10 Length To Weight Ratio 100% Composite Microform Barrel Design Offers Maximum Pop With A Light Swing Weight 2 3/4 Inch Barrel Diameter 7/8 Tapered Handle Balanced Swing Weight

Louisville Slugger 918X Prime 918 -10 Senior League Baseball Bat 27 inch 17 oz 169.95 Louisville The Prime 918 (-10) 2 34 Senior League bat from Louisville Slugger is the most complete bat in the game. The pinnacle of performance engineered to perfection, this bat is made with a 100% Composite Microform barrel, designed for a lighter swing weight and maximum pop. The new RTX end cap provides a longer barrel shape, and TRU3 construction helps reduce vibration so you can get the most out of every swing.

Louisville Slugger Junior Big Barrel Omaha 517 2 3/4 -10 Baseball Bat 27" 17 oz 99.95 Louisville For more than a decade, Louisville Slugger's Omaha 517 has performed at a high level, in the hands of the world's top players. And the 2017 model has evolved even further. This year's bat has an improved performance alloy to deliver an even more durable one-piece bat. Time and time again, it's been proven to be a top choice for power hitters and elite ballplayers at the travel and college level. • One-piece Performance Alloy • Bigger 2 34 barrel design for larger sweet spot • Durable synthetic leather grip • 78 standard handle Bat Specifications Drop: -10 jr big barrel Barrel: 2 34 Handle: 78 Certified: USSSA 1.15 BPF Swing Weight: Balanced Material: Peformance Alloy Construction: One-piece Grip: Synthetic leather grip Warranty: One Year Manufacturer's Warranty

Louisville Slugger Omaha 518 -10 Senior League Baseball Bat 2 3/4 Barrel 27 in 17 oz 99.00 Louisville Louisville Slugger's Omaha 518 (-10) 2 3/4 Senior League bat continues to be the bat of choice at the highest levels of the game, with unmatched consistency year in and year out. This bat is made in a durable 1-piece construction, with a ST 7u1+ alloy design and enhanced 6-Star premium performance end cap to create a massive sweet spot and stiffer feel while maintaining a mid-balanced swing weight. The Omaha 518 will keep you bringing it at-bat after at-bat, game after game.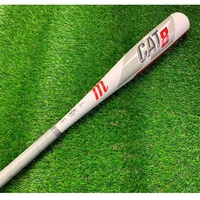 Marucci Cat 8 JBB Baseball Bat 27 inch 17 oz DEMO 130.00 Marucci Demo bats are a great opportunity to pick up a high performance bat at a reduced price. The bat is etched demo covering the serial number. These bats were used to show to club teams before placing their team bulk orders. Some have been hit with a few times, others not at all. The picture is the actual bat.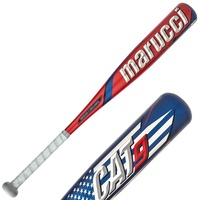 Marucci Cat 9 America JBB -10 Baseball Bat 27 inch 17 oz 219.95 Marucci ul class=a-unordered-list a-vertical a-spacing-mini li h1 class=productView-title-lowerCAT9 PASTIME JUNIOR BIG BARREL -10/h1 pThe history of baseball is so rich it earned the name "America's Pastime". Played for generations and withstanding the test of time, this game demands respect and will return the favor to the truly committed. Paying homage to the greats that were, in order to carve a place for the phenoms that will be, take the field with confidence armed with superior technology and our unwavering commitment to emcrafting excellence/em./p pspanbr /The balanced, one-piece CAT9 Pastime is designed with thermally treated AZR alloy for a more responsive and forgiving feel. Equipped with a massive sweet spot, you'll have no trouble starting a rally./span/p /li ul liUtilizing a three-stage thermal treatment process, our new AZR alloy offers a more responsive microstructure for better feel, more forgiveness and more performance while maintaining the same strength as its predecessor/li liMulti-variable wall design creates an expanded sweet spot and thinner barrel walls that are more forgiving after off-centered contact/li li2nd generation AV2 Anti-Vibration Knob features an upgraded, finely tuned harmonic dampening system for better feel and less negative vibrational feedback/li liRing-free barrel construction allows for more barrel flex and increases performance with no dead spots /li liPrecision-balanced barrel results in a lower M.O.I. and balanced feel for precision and control /li liOne-piece alloy construction provides a clean, consistent, traditional swing /li liMicro-perforated soft-touch grip with extra tack improves feel and control/li liThe CAT9 comes standard with a gray 1.75mm grip/li liGrip weight and manufacturing tolerances may cause slight deviation from the listed weight/li li2 3/4 barrel/li liUSSSA 1.15 BPF certified/li liOne-year warranty included/li liRecommended for coach pitch leagues (ages 5-7)/li /ul /ul p /p pimg class=__mce_add_custom__ title=mcbc9a-5-32624.1621021719.jpg src=https://cdn11.bigcommerce.com/s-2hhnbofc/product_images/uploaded_images/mcbc9a-5-32624.1621021719.jpg alt=mcbc9a-5-32624.1621021719.jpg width=500 height=500 //p pimg class=__mce_add_custom__ title=mjbbc9a-1-12329.1621021726.jpg src=https://cdn11.bigcommerce.com/s-2hhnbofc/product_images/uploaded_images/mjbbc9a-1-12329.1621021726.jpg alt=mjbbc9a-1-12329.1621021726.jpg width=500 height=500 //p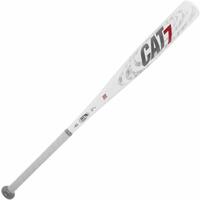 Marucci Cat7 -10 Baseball Bat MSBC7X10 27 inch 17 oz 149.95 Marucci p-10 Length to Weight Ratio 1-piece alloy construction AZ4X alloy construction 1.15 BPF USSSA Certified 1 Year Manufacturer's Warranty/p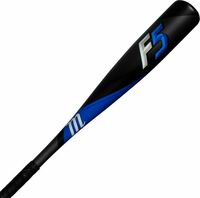 Marucci F5 Junior Big Barrel -10 Black MJBBF52 27 inch 17 oz Baseball Bat 79.95 Marucci Traditional Feel. Precise Balance. Multi-Variable Walls. The F5 Junior Big Barrel bat's one-piece alloy design gives youth players the balance, speed, and control to do some heavy damage at the dish. Comes with a 1 year manufacturer's warranty from Marucci. - -10 Length to Weight Ratio - 2 3/4 Inch Barrel Diameter - One-Piece Alloy Construction - Balanced Swing Weight - Multi-variable Wall Design - Ring-free Barrel Technology - Custom micro-perforated soft-touch grip - USSSA 1.15 BPF certified - 1 Year Manufacturer's Warranty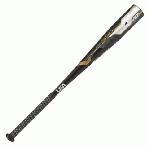 Rawlings 2018 -10 5150 Alloy USA Baseball Bat 27 inch 17 oz 119.95 Rawlings pEngineered with pop 2.0 Larger sweet spot 5150 Alloy-Aerospace-Grade Alloy Built for Performance and Durability Made in the USA/p

Rawlings 5150 USA Baseball Bat -10 2019 27 inch 17 oz 59.95 Rawlings 100% Other Fibers High-performance metal Baseball bat delivers exceptional pop and balance Engineered with p0p 2.0 technology for an expanded sweet spot Balanced design delivers a smooth feel and maximizes bat speed Constructed with Aircraft-grade 5150 alloy to enhance responsiveness Usa-stamped bat is approved for new 2018 standards in all USA Baseball leagues